New and Revised Publications
Floridians' Perceptions of Endangered Species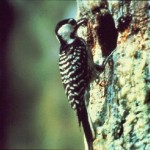 In July 2014, the UF/IFAS Center for Public Issues Education in Agriculture and Natural Resources (PIE Center) initiated a study to explore the attitudes, perceptions, opinions, and knowledge of Floridians on endangered and invasive species. The majority of respondents to the survey have favorable views of endangered species but few consider themselves knowledgeable on the issue. This 4-page fact sheet can equip Extension faculty to more effectively communicate with and educate clientele about endangered species. Written by Mary Hannah Miller, Nicole M.W. Dodds, & Alexa J. Lamm, and published by the UF Department of Agricultural Education and Communication, October 2014.
http://edis.ifas.ufl.edu/wc185
Developing a Soil Test Extractant: The Correlation and Calibration Processes

An understanding of soil testing is an important part of preventing excess fertilizer applications that can potentially impact the environment and ensuring commercially viable yields and aesthetic, healthy landscapes. This 4-page fact sheet describes the process UF/IFAS soil scientists used to develop a predictive and/or diagnostic soil test that can be depended on by commercial agricultural and horticultural producers as well as homeowners and can provide accurate nutrient recommendations or diagnose nutrient imbalances for crops or plants. Written by George Hochmuth, Rao Mylavarapu, and Ed Hanlon, and published by the UF Department of Soil and Water Science, October 2014.
http://edis.ifas.ufl.edu/ss622
Extension Professionals: Anticipating and Solving Common Challenges in Planning and Delivering Educational Programs

The work of an Extension agent demands much more than just subject knowledge. An Extension career is exciting because no two days are the same. With that comes a variety of unexpected challenges. The delivery of programs to diverse clienteles is, in itself, a skill and something that Extension agents improve over time. This article summarizes some common problems associated with delivering Extension programs and to recommend solutions. This 5-page fact sheet was written by Laura A. Warner and Kathryn A. Stofer, and published by the UF Department of Agricultural Education and Communication, September 2014.
http://edis.ifas.ufl.edu/wc178
Imperial Moth Eacles imperialis imperialis (Drury, 1773) (Insecta: Lepidoptera: Saturniidae: Ceratocampinae)

The imperial moth is one of our largest and most beautiful moths. It is also the most variable in appearance and the most widely distributed of our large eastern U.S. saturniid moths. This 9-page fact sheet was written by Donald W. Hall, and published by the UF Department of Entomology and Nematology, September 2014.
(Photo: Donald W. Hall, University of Florida) http://edis.ifas.ufl.edu/in1051
Homemade Household Cleaners

Are you on a budget? Running low on those household cleaners? Instead of heading to the store to buy those more expensive cleaners, make your own! Many homemade household cleaners can be made with just a few inexpensive products that will last a lot longer. This 3-page fact sheet was written by Amanda Griffin and Randall A. Cantrell, and published by the UF Department of Family Youth and Community Sciences, October 2014. (Photo: iStock/Thinkstock.com)
http://edis.ifas.ufl.edu/fy1449
Facts about Potassium

Potassium is a mineral found inside body cells. It is one of several minerals known as electrolytes. It is important because it helps regulate fluid and electrolyte balance, maintain normal blood pressure, transmit nerve impulses, control muscle contraction, and maintain healthy bones. Legumes are good sources of potassium, as are nuts and seeds. This 2-page fact sheet was written by R. Elaine Turner and Linda B. Bobroff, and published by the UF Department of Family Youth and Community Sciences, September 2014. (Photo: tofumax/iStock/Thinkstock.com)
http://edis.ifas.ufl.edu/fy889
2014 Cool-Season Forage Variety Recommendations for Florida

This 4-page fact sheet provides the most up-to-date information on current adapted varieties of cool-season forages. The recommendation of varieties is based on multi-location, multi-year cultivar evaluation experiments that may include trials in Georgia and other states. Table 1 includes information about the planting dates, seeding rates, and other considerations. If you have questions about a particular variety, contact your local UF/IFAS Extension agent for additional information. Written by A. R. Blount, J. M. B. Vendramini, J. C. B. Dubeux, Md A. Babar, K. E. Kenworthy, P. R. Muñoz,and K. H. Quesenberry, and published by the UF Department of Agronomy, September 2014. (UF/IFAS Photo: Josh Wickam)
http://edis.ifas.ufl.edu/aa266
A Farm to School Procurement Calculator for Specialty Crop Producers and School Food Service Staff

Florida Farm to School programs are designed to connect producers with schools. But school food service staff make their purchasing decisions in terms of servings and producers pack their products by weight. General calculators and guides designed for national Farm to School programs don't address Florida's diverse production of fresh fruits and vegetables. This procurement calculator and guide for Florida Farm to School programs was written by Jonathan A. Watson, Danielle Treadwell, Anna Prizzia, and Kelli Brew, and published by the UF Department of Horticultural Sciences, September 2014.
http://edis.ifas.ufl.edu/hs1250
Advanced Tree Risk Assessment: Resistance Recording Drills

Resistance recording drills are specialized pieces of decay detection equipment that may be used as part of an advanced risk assessment. While not required for tree risk assessment work, resistance recording drills have been shown to be effective in helping arborists detect and document internal tree decay in trees. This 5-page fact sheet was written by Drew McLean, Andrew Koeser, and Gitta Hasing, and published by the UF Department of Environmental Horticulture, October 2014.
http://edis.ifas.ufl.edu/ep504
Homeowner Best Management Practices for the Home Lawn

A healthy lawn is an important component of an urban landscape. Loss of turf health and misuse of fertilizers can result increased nonpoint source pollution, so homeowners should use Best Management Practices when maintaining their lawns. Best Management Practices follow Florida-Friendly Landscaping™ principles, developed for maintenance of a healthy landscape that does not contribute to nonpoint source pollution. This 6-page fact sheet provides easy-to-follow tips on Florida-friendly lawn maintenance. Written by Laurie E. Trenholm, and published by the UF Department of Environmental Horticulture, October 2014.
http://edis.ifas.ufl.edu/ep236
Jalapeño and Other Hot Pepper Varieties for Florida


The jalapeño is derived from the Capsicum genus of the family Solanaceae. Jalapeños are members of a diverse group, which also include ancho poblano, cayenne, serrano, Anaheim, banana, Asian, habanero, and Hungarian wax peppers. Hot peppers are classified by their heat and shape. The heat of the pepper comes from the chemical compound capsaicin, which is measured by the Scoville scale. This 8-page fact sheet is a guide of jalapeño and other hot pepper varieties used in Florida was written by Monica Ozores-Hampton and Gene McAvoy, and published by the UF Department of Horticultural Sciences, October 2014.
http://edis.ifas.ufl.edu/hs1241
African malaria mosquito Anopheles gambiae Giles (Insecta: Diptera: Culicidae)

Anopheles gambiae Giles is commonly called the African malaria mosquito because it is the most efficient vector of human malaria in the Afrotropical Region. They are considered to be one of the world's most important human malaria vectors because of their susceptibility to the Plasmodium parasite, their preference for humans as a host, and their indoor-feeding behavior. Due to their short development time and their preference for developmental habitats near human dwellings, Anopheles gambiae are considered effective vectors of human malaria, as well as lymphatic filariasis (elephantiasis). This 6-page fact sheet was written by Sabrina A. White and Phillip E. Kaufman, and published by the UF Department of Entomology and Nematology, September 2014.
http://edis.ifas.ufl.edu/in1048
Growth Stages and Tuber Development of FL1867 Potato under Full and Reduced Irrigation Scheduling

The potato cultivar 'Frito Lay 1867′ ('FL 1867′) is a popular chipping variety grown across Florida and the southern United States. Knowledge of the timing and duration of the tuber initiation and tuber bulking stages for 'FL 1867′ is critical for timing fertilizer and irrigation applications. So to evaluate the start and length of the tuber initiation and tuber bulking stages under Florida growing conditions, 'FL 1867′ plants were dug up and photographed on a weekly basis from a commercial field near Live Oak, FL in 2012. This 3-page fact sheet was written by Seth A. Byrd, Diane L. Rowland, and Lincoln Zotarelli, and published by the UF Department of Agronomy, September 2014.
http://edis.ifas.ufl.edu/ag388
Pool Chemicals and Personal Safety

Pool chemicals are among the most common household substances and are used to protect health in recreational waters. Pool chemicals containing chlorine safeguard against recreational-water illnesses caused by disease-causing pathogens, such as the diarrhea-causing Cryptosporidium. They also enhance disinfection by regulating water pH. But even though these materials are regularly handled by homeowners, most don't ever realize that they are handling pesticides. This 3-page fact sheet was written by Fred Fishel, and published by the UF Department of Agronomy, September 2014.
http://edis.ifas.ufl.edu/pi253
University of Florida Potato Variety Trial Program: 'Elkton' Commercial Evaluation

The 'Elkton' chipping potato variety was tested on a commercial scale at two growers' farms in Florida during the 2011 season. The average yield of 'Elkton' in the commercial trials ranged between 295 and 324 cwt/ac, an average of 11 percent higher than that of the standard 'Atlantic,' and comparable to the yield range obtained in 19 trials conducted over a nine-year period by the University of Florida. This 4-page fact sheet was written by Lincoln Zotarelli, Douglas Gergela, and Dana Fourman, and published by the UF Department of Horticultural Sciences, October 2014.
http://edis.ifas.ufl.edu/hs1253
Sugarcane Orange Rust

In June 2007, rust symptoms were observed on sugarcane cultivar CP80-1743 about six miles east of Belle Glade, Florida. The disease was confirmed as orange rust of sugarcane. It is hypothesized that rust spores were blown into the region as a disperse spore cloud from an unknown source rather than spread from a single or several small focal points. This 7-page fact sheet was written by P. Rott, S. Sood, J. C. Comstock, R. N. Raid, N. C. Glynn, R. A. Gilbert, and H. S. Sandhu, and published by the UF Department of Agronomy, May 2014.
http://edis.ifas.ufl.edu/sc099
Food Safety at Tailgating

While tailgating can be a great fun for family and friends, you need to make plans and take on-site precautions to keep your food safe during these events. Since refrigerators and running water are not always available for the events, you should familiarize yourself with the safe food handling practices for these outdoor events and plan ahead so you will be prepared with enough coolers/ice and all the tools you need to keep and cook your food safely. This 3-page fact sheet provides information on safe food practices for tailgating and other outdoor sporting events. Written by Soohyoun Ahn, Amarat H. Simonne, and Keith R. Schneider, and published by the UF Department of Food Science and Human Nutrition, October 2014.
http://edis.ifas.ufl.edu/fs256
A Practical Guide for Aquaponics as an Alternative Enterprise

Aquaponics is an intensive sustainable agricultural production system that connects hydroponic and aquaculture systems to produce multiple cash crops with reduced water and fertilizer inputs. It is highly suited for small farm producers targeting local markets and agritourism opportunities. This 10-page fact sheet was written by Richard Tyson and Eric Simonne, and published by the UF Department of Horticultural Sciences, September 2014.
http://edis.ifas.ufl.edu/hs1252
Conventional and Specialty Eggplant Varieties in Florida

Eggplants are members of the nightshade family Solanaceae. Cultural practices employed in eggplant production are similar to tomatoes and peppers. In south Florida, where winters are mild and freezes are infrequent, eggplants are planted from August to March. This 5-page fact sheet is a guide to eggplant varieties commonly used in Florida. Written by Monica Ozores-Hampton, and published by the UF Department of Horticultural Sciences, October 2014.
http://edis.ifas.ufl.edu/hs1243
Effect of Anovulation and Subclinical Endometritis on Fertility of Lactating Dairy Cows: Why Are Dairy Cows Not Getting Pregnant: Lack of Cyclicity, Uterine Disease, or Both?

Virtually all Holstein dairy cows have the first wave of follicle growth starting two weeks postpartum, with about 30% of these cows ovulating within 21 days in milk. This 3-page fact sheet presents the results of a recent paper that evaluated the individual and combined effects of anovulation and subclinical endometritis on reproductive performance of dairy cows. Written by Klibs N. Galvão and Achilles Vieira-Neto, and published by the UF Department of Veterinary Medicine-Large Animal Clinical Sciences, May 2014.
http://edis.ifas.ufl.edu/vm222
Authors: Get web visit information for annual reporting. More...
What is EDIS?
EDIS is the Electronic Data Information Source of UF/IFAS Extension, a collection of information on topics relevant to you. More...
Faculty & Staff
Additional IFAS Sites
Communities